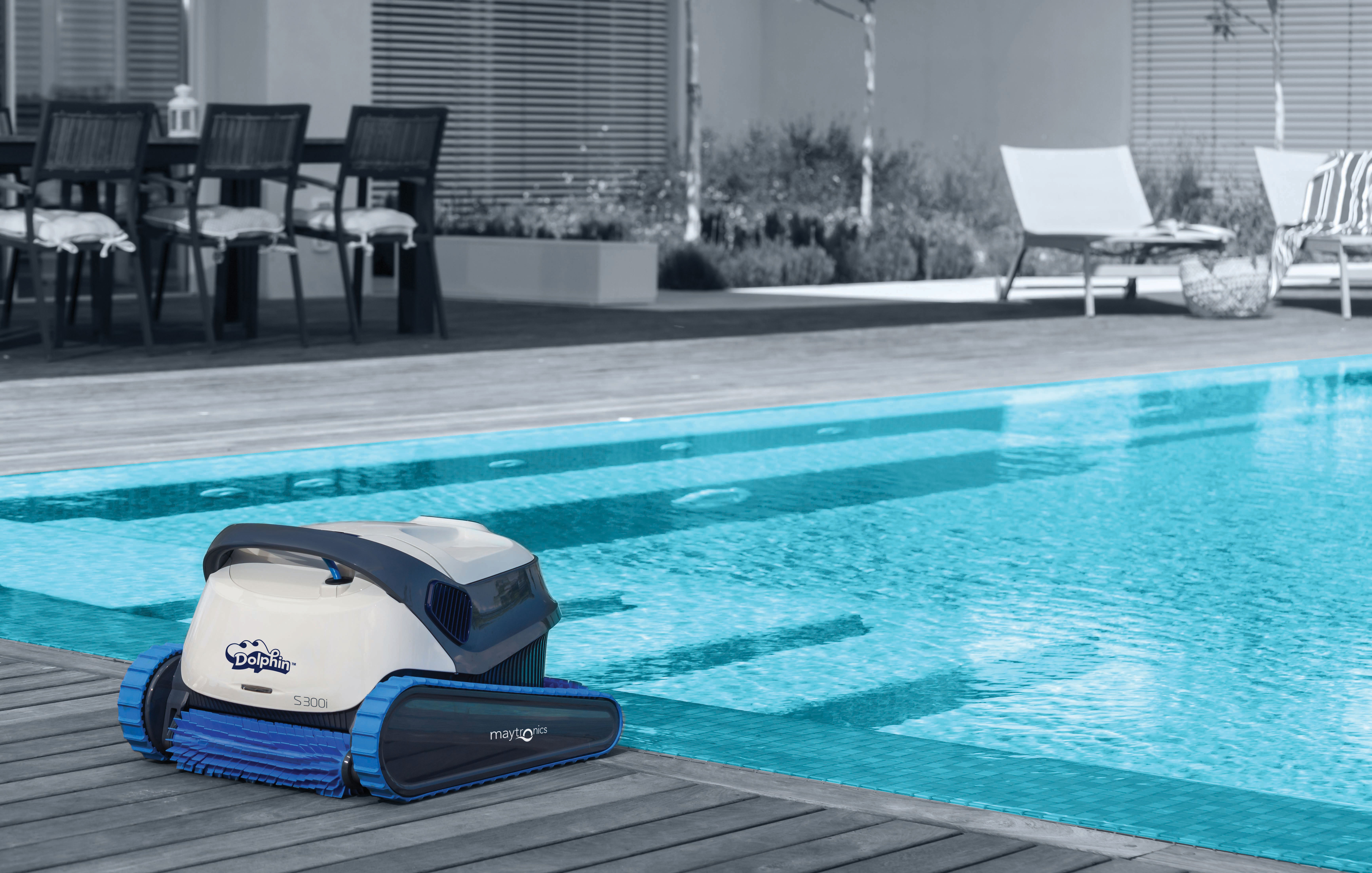 The vast nature of the automated pool cleaners market in Singapore has made it challenging for many people to acquire the best quality. However, you do not have to face any more hurdles when shopping for Robotic Pool Cleaners because all these can now be easily obtained from Pool Robot Singapore at your own convenience. Our company is the authorized dealer and distributor of Maytronics brand of Dolphin Robotic Pool Cleaners in Singapore.
We are not only focused on delivering the best quality Dolphin Robotic Pool Cleaners but, also making sure that every pool owner gets the right automated pool cleaner customized to their needs and budget. And, these are guarantees that you will always get each time that you order a robotic pool cleaner from us. Besides, we also offer exceptional customer service so you are assured of the best experience during shopping and also after sale.
Unlike other brands in the market, Dolphin is a renowned and accomplished name in the robotic pool cleaners industry across the world and by partnering with Maytronics, our company is able to deliver highly efficient, effective and economical products to meet varying customer demands.
Our Product Categories
Although pool cleaning may seem like just any other casual cleaning procedure, there is a way in which every pool size, shape and design should be cleaned for effective results. That is why Dolphin Robotic Pool Cleaners also come in diverse types and models to choose from. Our products are grouped into three main categories; Commercial, Residential/ Domestic and Cordless Robotic Pool Cleaners.
Commercial pools usually experience huge traffic, mainly because a variety of them are constructed in places that are accessible to the public. As a result of this, the pools often accumulate a lot of dust, debris and germs, which require regular and effective pool cleaning. The Dolphin brand of Commercial robotic pool cleaners are the best for cleaning pools that are used in business establishments like, hotels, spas, clubs, schools, public and private swimming pools among others.
Commercial Robotic Dolphin Swimming Pool Cleaners are built with features and accessories to effectively cater for heavy duty pool cleaning procedures in large, medium and small sized pools. The design of this type of automated pool cleaner incorporates advanced technologies to comprehensively scan and brush your pool, leaving it clean and fresh. Besides, they also have their own filtration systems for the best results in every application.
With a commercial automated pool cleaner, your workers will not have to spend long hours on the pool anymore since the product can easily perform various cleaning tasks at once independently. In this way, you will be able to enhance efficiency in pool cleaning with a guarantee of exceptional results.
Most people who own pools in their homes often prefer to do the cleaning on their own manually. But, a common problem that is faced by all these people is, challenges in getting effective results and finding ample time to do the job. Besides, cleaning a pool manually is also tiring and can leave you exhausted. Instead of all that stress, simply get a Dolphin residential/ domestic robotic pool cleaner.
Residential automated pool cleaners are the perfect choice for cleaning the pool in your home or residential establishment. The robots are designed with special features for ease of use so that just anyone in your home can use them. Operating the pool cleaner is quite simple and easy. Besides, Dolphin residential robotic swimming pool cleaners are also very economical in terms of energy consumption and maintenance.
Since many home owners like to design their pools in unique shapes and sizes customized to other recreational facilities and the general appeal of their environments, residential robotic pool cleaners are built for greater performance in all kinds of pools. The Dolphin brands of Residential/ Domestic Robotic Pool Cleaners that we offer are available in three choices; classic, basic and top-of-the-line.
Unlike other pool cleaning robots by Maytronics, the Cordless Robotic Dolphin Swimming Pool Cleaner is one of a kind. These robotic cleaners are enhanced with their own batteries so you do not have to bear the stress of having to keep moving the cleaner from one area of the pool to another when in use. This product is designed to effectively scrub, brush, vacuum and filter the entire pool for a sparkling and fresh appeal of your pool water.
Another key feature of the Cordless Robotic Pool Cleaner is the advanced scanning program that is fitted onto the gadget to ensure optimal pool coverage. It is a great automated pool cleaner option that can effectively clean your pool in just one and a half hours or less. Besides, it also has gyro technology to enhance efficient scanning, precision and proper movement across the pool to effectively clean the walls, floor and waterline.
Cordless Robotic Pool Cleaners are mainly recommended for cleaning pools of up to 15m and controlled by remote. This also gives room for users to choose between manual and automatic operation of the robot. The cordless automated pool cleaner is also easy to operate and maintain with most tasks being DIY.
Benefits of Dolphin Robotic Pool Cleaners
Although there are other automated pool cleaners in the market, Dolphin Robotic Pool Cleaners have proven to be a force to reckon with. This is mainly due to the numerous merits that the products have over several other brands. The following are some of the key reasons why you should always acquire Dolphin Robotic Pool Cleaners from Pool Robot Singapore.
Designed with advanced pool cleaning technologies for greater performance
Highly efficient and customized to various pool shapes and designs
Effective and less strenuous pool cleaning in a short time
2 Years Warranty for every robotic pool cleaner
Easy to use with very little maintenance required
We also stock diverse kinds and models of Dolphin pool cleaning robots that you can always choose from depending on the pool that you have and expectations. By talking to us, you will be able to easily get the right Dolphin Robotic Pool Cleaner for your residential or commercial pool. Dolphin products are the best to always go for in order to attain highly effective, efficient, economical and stress-free pool cleaning.
Maytronics is a company that has for decades reserved the top spot in the manufacture of robotic pool cleaners across the globe, and this is a guarantee that every product that you acquire from us is of the best quality. As the authorized dealer and distributor of Dolphin Robotic Pool Cleaners in Singapore, we strive to make sure that you always have the best experience using any type or model that you purchase from us.
We understand that sometimes, choosing the perfect robotic pool cleaner can be challenging, especially when you do not know about automated pool cleaners. Therefore, we have in place, a team of trained and experienced pool cleaning experts to show customers into detail, the key features of various kinds and models of Dolphin robotic pool cleaners as well as how they work. You can also read our blog for more information about automated pool cleaners.
For inquiries about our commercial, residential and cordless robotic pool cleaners or appointment for a free demo, do not hesitate to talk to us!