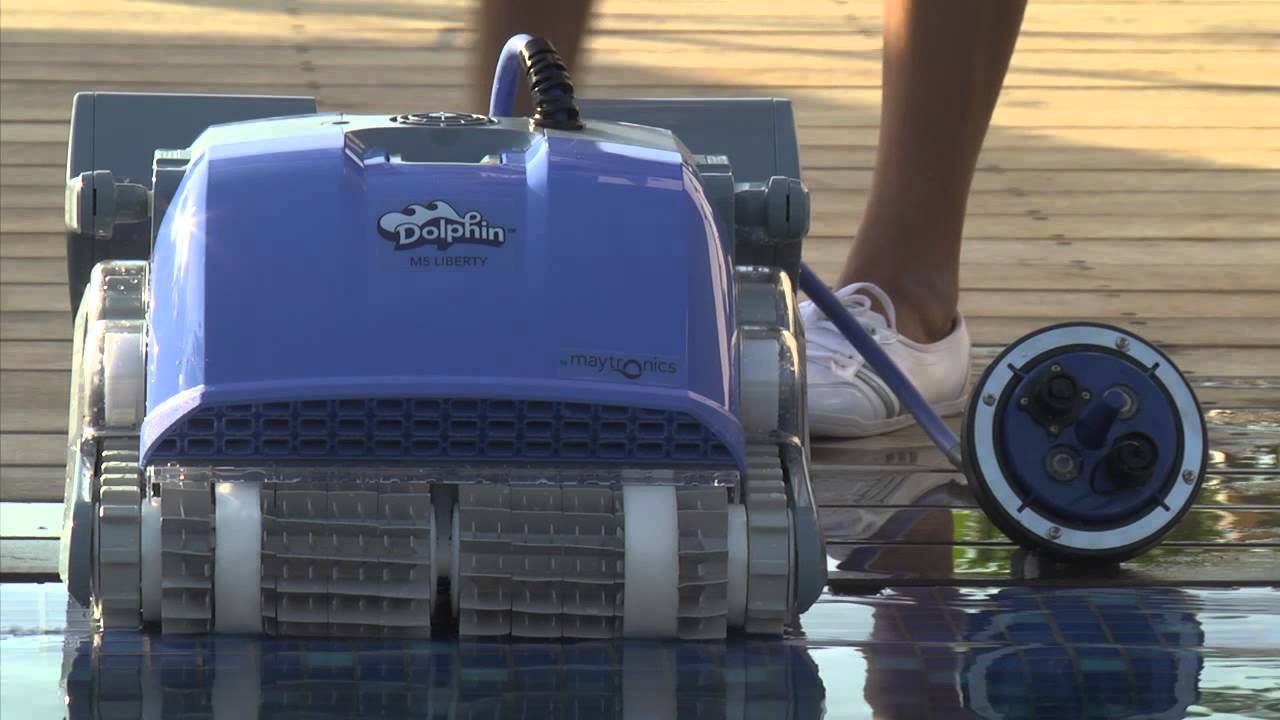 The Cordless robotic Dolphin swimming pool cleaner is the ultimate automated pool cleaner that guarantees freedom and effective results in pool cleaning. It brings into the market, a new concept in pool cleaning and, owning one is an assurance for highly efficient and economical pool cleaning solutions. This automated pool cleaner is designed with amazing features for greater performance and reliability in cleaning just any swimming pool design, shape and size.
The Cordless robotic pool cleaners offered at Pool Robot Singapore are manufactured by Maytronics; the company behind the renowned Dolphin brand of automated pool cleaners. These products are built from many years of expertise, which ensures that every piece is top notch. Apart from just the strong brand name, Dolphin cordless robotic pool cleaners have also been tested and proven ideal for pool cleaning across the world. And, this is a guarantee that you will always have the best experience with one.
Key Features of Cordless Robotic Dolphin Swimming Pool Cleaner
A lot has been said about Cordless Robotic Dolphin Swimming Pool Cleaners but, it is important that you get it straight from us. Cordless robotic pool cleaners are built with a set of innovative features, which give them a cutting edge above the rest when it comes to pool cleaning. The following are the main features of Dolphin cordless robotic pool cleaners;
Cleverclean pool scanning
This is an advanced technology that is integrated in the cordless robotic pool cleaner to ensure that it can comprehensively scan all the sections of the pool for effective cleaning.  It is through this program that the device is able to deliver optimal coverage of the pool during the cleaning process. Through Cleverclean pool scanning, you can easily clean your pool in just about one and a half hours or even less, thereby saving a lot of time. To make the pool scanning process even more effective, the design of this automated cleaner also incorporates Gyroscope system.
Floor, wall and waterline cleaning
Unlike what some may think, proper pool cleaning touches on various sections of the pool including, the floor, walls and waterline. And, that is why the cordless automated pool cleaner has the ability to properly scrub, vacuum and filter the whole pool. In this way, you will be able to experience the best results in every cleaning exercise. The device is designed with Dual-active brushing for intensive removal of debris, dust particles, algae and bacteria, leaving your pool water safe and fresh. In fact, this further eliminates the need for using chemicals in pool cleaning.
Remote Control
This is another unique feature of cordless robotic pool cleaners that allows users to choose between automatic or manual operation of the device. Through the remote, you can easily set parameters for cleaning programs, cycle time and operation delay. In fact, the remote control feature even makes it more stress-free to conduct cleaning of your home or commercial pool with great comfort.
In-built Battery
Swimming pool cleaners can sometimes consume a lot of energy, shooting your power bills higher. And, a cordless robotic pool cleaner is the best option to avoid such unnecessary expenses. This pool cleaner has an its own battery to provide sufficient power for the device during the cleaning exercise. The battery is positioned inside the motor unit and also comes with a charger for easy and fast charging within only three hours. Besides, the cleaner is also equipped with a Cable Float to show the battery level.
Dual-level filtration porosity
Pool filtration is one of the key concerns during cleaning, which if not done correctly could make the pool hazardous to users. Dolphin cordless robotic pool cleaners are designed with dual-level filtration mechanism that caters for all pool conditions. It has ultra-fine cartridges that effectively collect fine dust particles to leave your water sparkling clean. Besides, the cleaner also has a wide-mesh net to collect and remove debris and leaves from the pool water.
Easy Maintenance
The cordless robotic pool cleaner is built with top access feature to ensure that the key parts of the gadget are easily accessible during maintenance. However, it does not require elaborate maintenance procedures, which you can easily conduct even on your own. As the authorized dealer and distributor of Dolphin robotic pool cleaners in Singapore, you can also talk to us for professional help with repairs or maintenance procedures.
For every Dolphin cordless robotic pool cleaner that you buy from our company, there is always a warranty of 36 months on all parts, except the battery. However, the battery is accorded 24 months warranty, all aimed at ensuring that you get the best experience and greater value for money.
Application of Cordless Robotic Pool Cleaners
Apart from just knowing about the key features of a cordless robotic pool cleaner, it is also important that you are knowledgeable on how it works and where it is used. Considering that these pool cleaners do not have power cables attached to them, they can easily maneuver various sections of a swimming pool independently. In fact, this is the best automated pool cleaner to use in swimming pools that are designed with unique features like bridges, fountains, pillars, islands among others.
Cordless robotic Dolphin swimming pool cleaner is mainly recommended for residential pools measuring up to 50 feet in length. Since this kind of automated pool cleaner can easily navigate various sections of the pool, it is ideal for cleaning pools with unique shapes and designs. Through its obstacle escape mechanism, the cleaner can deliver continuous operation with the least intervention for convenience.
Without wasting more time, simply get in touch with us now to place an order for a high quality Cordless robotic Dolphin swimming pool cleaner in Singapore. All our products are tested and proven ideal for greater performance, efficiency and reliability in pool cleaning, hence, a guarantee that you will always get the best deal whenever you buy the robotic pool cleaner from us.
At Pool Robot Singapore, we also offer free product demos and plenty of information on our blog to keep our customers informed about the various kinds and models of Dolphin robotic pool cleaners that we offer. Feel free to book an appointment with us for a free demonstration of any cordless, commercial or residential/ domestic robotic pool cleaner that you need.